In the archives of Mari, the text A.1487 + 4188, which refers to problems of irrigation water catchment, places the locality of Zalpa towards the sources of the Balih upstream of Tuttul. It should be noted that the present name of this river "Balih", a tributary of the Euphrates, has remained unchanged since antiquity.
Zalpa had a namesake in northern Anatolia. Both are evoked in the texts of Hattusa, which seem to differentiate them by a slightly different orthography: Zalpuwa for that of Anatolia, Zalpar or Zalpah for that of Syria. It is the latter which is mentioned in the military campaign of Hattusili I against Hahha. The prism of Tikunani also evokes it with that of Nihriya.
Several routes show that the city of Zalpah was after Ahuna or Serda coming from Tuttul. The city was a place of passage of the Assyrian merchants from the beginning of the second millennium BC.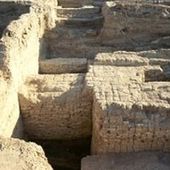 Tell Hammam al Turkman lies in the Jazira, on the left bank of the Balikh river, a tributary of the Euphrates. The site has a diameter of some 500m, and is 45m high. Where there is water, the area ...
https://www.universiteitleiden.nl/en/research/research-projects/archaeology/tell-hammam-syria
The Tell Hammam al Turkman
The Tell Hammam al-Turkman was excavated from 1981 to 1986 by Maurits N. Van Loon of the University of Amsterdam, and from 1988 to 2001 by Diederik J.W. Meijer for the University of Leiden. Layers covering the Bronze Age were exhumed. Some cuneiform tablets have been found there.
Also, the identification with the Hamman al-Tukman proposed by Mr. Falkner, Mr. Van Loon, J.M. Cordoba in 1990 is justified.
For an explanation on the colors of text, click here.
For French language, click here.
My notes of veracity :
During the 2nd millennium BC, Zalpah was the Tell Hammam al-Turkman: 3/5