The Tell Bi'a is on a tributary of the Euphrates, the Balikh, near the present town of Ar Raqqa.
Excavations of the tell were conducted by a German team led by Strommenger and Kholmeyer. They began more than thirty years ago.
Summary of the history of the excavations of Tell Bi'a
The Tell seems to have been very active between 2900 and 2300 BC. Six monumental tombs, similar to those of Ur, revived the debate on the understanding of those of the large cities of Mesopotamia.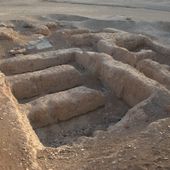 35.957539.0475Koordinaten: 35° 57′ N, 39° 3′ O
To know more Tuttul
382 texts were found on the Tell Bi'a. Jean-Marie Durand and Lionel Marti have recognized a majority of tablets from the period of Yahdun-Lîm, ruler of Mari. The letters of a governor of surname Sumhu-rabi are among them. This person had already been identified in Mari's archives. This reinforces the history of the region, and consolidates the knowledge of the cities of the time around the Euphrates. Numerous nearby toponyms are common with those of the archives of Mari: Emar, Yabliya, Ursum, Abattum, Suhum, Rapiqum, ....
The name Tuttul for Tell Bi'a is the result of three observations:
A cult of the god Dagan is found there both by the texts of Mari and by the buildings cleared by the excavations;

The texts "A.1487 + 4188" and "A.2769" precisely locate the city downstream of Balih, and others, such as "I85 +", "V 9", "I 34" show that the town was along the Euphrates, where merchants traded;

A Sumhu-Rabi courier from Tell Bi'a mentions "for three years I have been stationed in Tuttul ...".

The city was then a center of construction of boats for the transport of people and the god Dagan. This is probably the reason why a collared ax was found there.
According to the texts of Ebla, during the previous millennium, the name of the city appears as "Tudlum",. It was then an important religious center with a great temple dedicated to the god Dagan. Around 2334-2279 BC, Sargon of Akkad seized the town. His grandson, Narâm-Sîn, installed one of his sons as governor of the city.
When he discovered the tablets of Tell Bi'a, Jean-Marie Durand was surprised to discover that Apan was probably not as close to Mari as he thought. The similarities between the tablets "A.2" (Sumhu-rabi) and "A.250" (Sumu-hadu), both evoking a city of Der and the Balih show in fact that Appan, Humsan and Sehrum were close to the Balikh, in the vicinity of Tuttul. Sûmû-hadû appears to be a later governor under Zimri-Lim.
It is probable, moreover, that Raqqum was the name of the neighboring town, Ar Raqqa, mentioned in the tablet "XVIII 17" at the same time as Sûmû-hadû.
For an explanation on the colors of text, click here.
For French language, click here.
My notes of veracity :
The Tell Bi'a was the city designated Tuttul in the 2nd millennium BC: 4/5