The present Turkish site of Tilbeshar, situated on the border of Syria, between the villages of Belören, Gündoğan and Yeniköy in the Oğuzeli district, is said to be the Turbessel fortress of the crusaders of the beginning of the second millennium AD. The Tell Bashir of the Ayyubids. The historians of the Crusades know it also under the designations of Thilpachar, Tell Bacher, Turbascellum, Torvalcele ...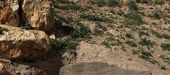 Turbessel - Forteresses d'Orient
Dés l'année suivant cette transaction, ces derniers ne purent contenir les nouvelles attaques des armées de Nur al-Din. Le sultan s'empara finalement de Turbessel en 1151. Aucun seigneur chréti...
Turbessel forteresse
There is no doubt that a town has been built at this place. The highest part of the tell, 40 m high, is dated by the ceramics of the Neolithic period. A human occupation is allowed from this period until today, with a major extension to the Bronze Age. The archaeologists consider it to be an important city in size during the third millennium BC:
Historians consider it to be the Til-Basere toponym of the Neo-Assyrian period. Especially since the texts situate it well towards the Euphrates. Thus, Salmanasar III evokes cities beyond the Euphrates: « I left Til-Barsip. On board ships made of lambskin I crossed the Euphrates during its high waters. The cities [...], Surunu, Paripa, Til-Basere, Dabigu, six large cities of Ahuni of Bit-Adini I captured. »
It should be noted here that this text differentiates well Til-Barsip, now located in Syria and already seen on this blog here, from Til-Basere, further north west on the other side of the Euphrates.
It should be noted that the prefix "Til" shows that during the iron age the inhabitants recognized in this place an ancient city which probably were called "Baser".
The larger of this city during the Bronze Age revives, I Think, the identification of the mountain of Basar and the positioning of the Amurru. Indeed, the successor of Naram-Sin, Sarkalisarri, had a year of reign called "the year of victory over the Amurrum in the mountain of Basar".
For an explanation on the colors of text, click here.
For French language, click here.
My notes of veracity :
The neo-Assyrian city of Til-Basere was the present site of Tilbeshar in Turkey: 3/5
The Basar mountain, during the Bronze Age, was the first foothills of the Anti-Taurus: 2,5 / 5