Homer evoked Tamasos in the Odyssey as a mining city: "And I came here with a nave and companions, sailing on the black sea towards men who speak a foreign tongue, towards Temesi, where I go and fetch copper and glossy iron."
Other Greco-Roman authors mention this town on the island of Cyprus. Etienne de Byzantium, in the 6th century AD, placed it in the interior the land and considered that although its copper was of excellent quality, its geographical position is the reason that it has not becoming an important city.
The Neo-Assyrian texts evoke, among the ten king of Ya Adnana: Admesus of Tamesu, which is Tamassos.
The old site is located in the center of Cyprus, under the present town of Politiko near Episkopeio, whose name means "ancient diocese". This is justified insofar as two bishops of Tamasos are known in the beginnings of Christianism.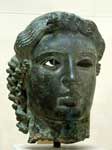 Cyprus Online Encyclopedia
Tamassos, Cyprus
The presence of many ancient mines, as well as some archaeological excavations that have exhumed objects from different periods, some of which are from the Bronze Age, consolidate the location of the ancient city of Tamassos to the present towns of Politiko and Episkopeio.
For an explanation on the colors of text, click here.
For French language, click here.
My notes of veracity :
Tamassos was located towards the present towns of Politiko and Episkopeio of the island of Cyprus: 3/5