Kurion was an important city during the Greco-Roman period. Its numerous ruins are to the west of Limassol, in the valley of the Lycus, of present name Kouris, in the island of Cyprus.
Herodotus evokes the city in his narration of the wars against the Persians. On this occasion he indicates that, in his time, the city was known to have been a colony of Argos.
In the Neo-Assyrian writings, among the 10 cities of Iadnana, Kourion is spelled "Kuri" and is ruled by King named Damasos.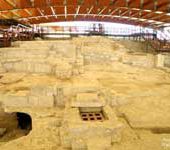 Cyprus Online Encyclopedia
Ruins of Kurion
Archaeological excavations have shown a continuous occupation of the valley of the Lycus since the Neolithic, but on various nearby sites. Thus Episkopi-Phaneromeni and Episkopi-Bamboula are places of ruins of the Bronze Age.
Also, it is possible that the name "Kir", which appears in an inscription of Medinet Habu in the time of Ramses III, is a reference to this city.
For an explanation on the colors of text, click here.
For French language, click here.
My notes of veracity :
Kurion existed under this name during the Bronze Age: 3/5