Today in Tunisia, it is commonly accepted that the city of Carthage was created during the 9th century BC. It is in line with archeology: the oldest monument exhumed dates from the 8th century BC.
According to the principal legends and writings of Assyria, in the beginning of the history of the Phoenicians, Cyprus, and some other ports of the Mediterranean, were then under the dominion of Tire.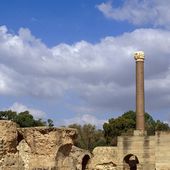 Archaeological Site of Carthage
Carthage was founded in the 9th century B.C. on the Gulf of Tunis. From the 6th century onwards, it developed into a great trading empire covering much of the Mediterranean and was home to a ...
Site of Carthage
These datings make possible the writing of this city on Assyrian texts of the 7th century B. I think that "Qartihadashti" from the royal Asarhaddon inscription of Assyria, about 10 kings / cities of Ya Adnana, is this city of Africa. Damusi appears to be the king of that time.
For an explanation on the colors of text, click here.
For French language, click here.
My notes of veracity :
Carthage is a name that means "New City" in Phoenician: 3/5