Paphos is a modern city to the south-west of the island of Cyprus.
In the Neo-Assyrian writings, Paphos appears in the form "Pappa" among the 10 cities of Iadnana, with at his head a king named Eteandros.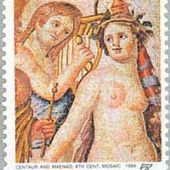 Cyprus Online Encyclopedia
Paphos and its mosaic
As was the case of most of the ancient cities of Cyprus, the oldest occupation was on a nearby site, different from that was known by the Romans. The site of Palaipaphos, located on the modern town of Kouklia, is about fifteen kilometers far. On the site was the cult of the goddess of the fertility of the Greeks. The Mycenaeans erected a shrine to him during the 12th century BC. The displacement of the city was the work of King Nikokles, during the 4th century BC, while keeping the same name: Palaipaphos means "Ancient Paphos".
Department of Antiquities - Archaeological Sites
The purpose of the web page of the Department of Antiquities is to inform both the general public and specialised scientists on its aims and goals and the means by which it achieves them. Moreover ...
http://www.mcw.gov.cy/mcw/da/da.nsf/All/C855DCAB4B3DD03BC225719B00359F05?OpenDocument
Palaepaphos
Homer mentions the city in the Odyssey, with regard to the goddess: "Aphrodite who loves smiles in Kypros, at Paphos where are his sacred woods and fragrant altars"
Numerous syllabic inscriptions come from the Kouklia site.
For an explanation on the colors of text, click here.
For French language, click here.
My notes of veracity :
Palaipaphos and Paphos are two sites with the same ancient name: Pappa: 3/5