From 1968, several sites of the Uruk period, the 4th millennium BC, were excavated in the Middle Euphrates region during rescue campaigns. The construction of dams would cause their disappearance. These are Djebel Aruda, Habuba Kabira and the Tell Qanas, very close to one another.
These three sites are along the Euphrates. They are said to be Urukean colonies: the hypothesis of an expansion of this culture from the South is that which is commonly retained, probably because it was first identified on the site of Uruk, in the south of Mesopotamia. But it is easier to descend a river than to ascend it.
At Habuba Kabira there was an urbanism consisting of about twenty residences of various sizes and a central monumental complex formed by two temples. It was German missions led by Ernest Heinrich and then Eva Strommenger who carried out the excavations there from 1975 to 1979. They discovered levels of the Bronze Age, stamps and objects dating back to the 4th Millennium BC. Habuba Kabira was a fortified port on the right bank of the Euphrates River. The city covered about 22 hectares protected by a wall, about 10% of the surface of which was cleared. The study of the construction of this site highlighted the fact that it was a planned urbanization, requiring significant means. The residences, organized around a reception room with a fireplace opening onto an inner courtyard, featureed ancillary rooms.
The archaeological material found is identical to that of Uruk, be it ceramics, cylinder seals, accounting bubbles, as well as end-of-period numerical tablets.
Mari est bâtie le long des routes commerciales reliant le Mésopotamie méridionale, la Khabur, le Tigre et la Syrie, et plus au sud, la ville d'Ebla se développe. Vers le milieu du IIIè millén...
Habuba Kabira et la Syrie
The Tell Qanas groups together, on an artificial terrace, a monumental complex made up of several buildings identified, without certainty, as "temples". The site was abandoned at the end of the 4th millennium, apparently without violence, deserted by its inhabitants during the phase of withdrawal of Uruk culture.
As for the site of Djebel Aruda, a Dutch team led by G. Van Driel conducted six excavation campaigns there from 1972 to 1982.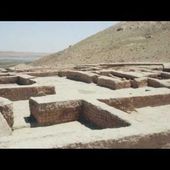 Jebel Aruda: een droom in duizend scherven
Peter Akkermans, conservator Oude Nabije Oosten van het Rijksmuseum van Oudheden, en Carol van Driel-Murray, opgravingsleidster, vertellen over de Nederlandse expeditie naar de heilige berg Aruda in
Peter Akkermans video
Two buildings and 13 archaic tablets were found there. The latter look more like counters than a handwriting.
These sites are contemporaneous with the period of the Akkad Empire and do not appear, unlike many others, to have suffered damage. Moreover, "Habiba Kabira" means, in Arabic, the "Great Belove". And is attested that Tuttul, not far, was visited by Sargon. This probably means that these sites were part of the Empire. But the writings do not allow one to say that it was the capital.
For an explanation on the colors of text, click here.
For French language, click here.
My notes of veracity :
Habuba Kabira, tell Qanas and Djebel Aruda: one of the sites was Akkad: 2/5