Inscriptions of Sennacherib were found in the villages of Sah (or Shakh) and Hasanna, in the present Cudi mountain, in southeastern Turkey. They evoke Mount Nipur, which appears, for many researchers, to be the current Cudi Dagi. In the annals of this same king, seven cities conquered at the foot of Mount Nippur are mentioned. Then Sennacherib battled against the king of the town of Ukku, to the Anara Mountains (maybe the present Zinar) and Uppa.
Researchers position Ukku at the village of Sah or Shakh the town of Utku or Ukku, where six inscriptions of Sennacherib were found:
The reliefs of Sah and Hasanah
Perhaps the seven cities were situated to the north of the mountain, those of the south having been conquered under Ashurnasirpal II, as mentioned in the annals of this last king: "From Nineveh, I went to the towns at the foot of the Nipur and Pazate Mountains. I conquered the cities of Atkun, Usku, Pilazi and 20 towns in their vicinity ... After I set out from this cities at the foot of the Nipur and Pazate mountains, and crossing the Tigris, approached the country of Kadmuhu."
Atkun, or Utku, is understood by the majority of scholars as being another writing of Ukku.
This town is also mentioned in exchanges of letters between Sennacherib and his father Sargon II, in particular vis-à-vis information circulating between the small countries of Ukku and Kumme and biggest at that time: Urartu and Assyria . Thus, the governor of Kumme warned Rusa I, the king of Urartu, of the construction of an Assyrian fort at Kumme. Kumme and Ukku were geographically close and between the two great powers.
Other researchers see Ukku in Hakkari, which appears to be a serious candidate.
Ukku may be the modern Zakho because of the phonetic resemblance, the addition of a Z at the beginning of name seems to have been frequent in this region
The text Kb0 III 60 of the archives of Hattusa evokes a Hittite expedition from Nuhayana against Alep and Ilan-Sura. There are cannibals, a prince of Suda and the cities of Surra and Ukapuwa. The latter is undoubtedly the Hittite denomination of the town of Ukku which seems to have a name associated with that of Uppa Mountain, and to be accessible from its west.
The age of Zakho is confirmed by the old "Delal" bridge: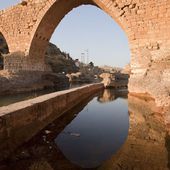 Dalal Bridge | Zakho | Travel Story and Pictures from Iraq
Get inspired by a travel story from Dalal Bridge and see a selection of pictures from Zakho in Iraq - and continue exploring the world on Around the World in 80 Clicks
http://www.traveladventures.org/continents/asia/dalal-bridge.html
The Delal bridge