In the present country of Iraq, E. Stone and P. Zymansky carried out three preliminary excavations between 1987 and 1990 on the 72 hectares of the Tell Abu Duwari. The archaeological excavations themselves had to be abandoned before the observation, in 2004, of a destruction of the site.
The site was identified with Mashkan-shapir on an inscription of foundation of a monument of the city by Sin-Iddinam, in 1844 BC. Mashkan-shapir was taken less than a century later by Hammurabi of Babylon while it was part of the Yamutbal country, in the orbit of Larsa.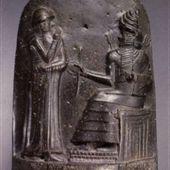 La chute de Larsa en 1763 av. notre ère et l'avènement de Babylone
Hammurabi est une figure clé de la longue Histoire Mésopotamienne. Il marque une rupture nette avec l'ancien temps des cités et des élites suméro-akadiennes du IIIe millénaire et l'hégémoni...
http://lesitedelhistoire.blogspot.fr/2012/04/la-chute-de-larsa-en-1763-av-notre-ere.html
Larsa and Mashkan-shapir
It was the second city of this southern part of the Yamutbal, while there was a Upper Yamutbal, which I think, is situated towards the northwest of the present country of Iran.
For an explanation on the colors of text, click here.
For French language, click here.
My notes of veracity :
The Tell Abu Duwari was the city of Mashkan-shapir: 4/5