Karystos is a port in the south of the island of Evia, Greece. Its antiquity and its importance during the Hellenistic period are proved by two famous men who originated there (Diocles of Karystos and Antigone of Karystos) on the one hand and on the other hand by a stele on which is written a decree of the 3rd century BC.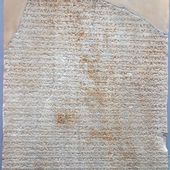 initiation à l'épigraphie grecque par Claire Tuan, un juge de Karystos à Kimôlos
A stela of Karystos
Now, found at Thebes of Boeotia, a tablet in linear B of the Mycenaean period evokes the cities of Karuto and Amaruto. J. Bennet of the University of Sheffield considers that these are two cities on the island of Evia. The phonetic association between Karuto and Karystos is indeed plausible. This shows that Karystos existed and already had this name during the Bronze Age.
For an explanation on the colors of text, click here.
For French language, click here.
My notes of veracity :
Karystos existed with the name "Karuto" during the Bronze Age: 3/5