During the end of the 19th century, European, American and Iraqi museums bought cuneiform tablets on the antique market, reputed to come from the Kirkuk region in the present country of Iraq. The tablets were from two sites: the town of Kirkuk, where a landslide had brought them up, and the tell of Yorgan Tepe, about fifteen kilometers southwest of Kirkuk.
Kirkuk is in northern Iraq, near the Zagros. The tell which covers the ancient town is in the heart of the modern city, it is surmounted by a small mosque. No official archaeological research has been done. Archaeologists first searched the neighboring site of Yorgan Tepe and found there about 5,000 tablets dating from the middle of the 2nd millennium BC.
The distinction between the tablets of Yorgan Tepe and those from Kirkuk could only be made after their translations. Historians have found that Arrapha appeared essentially on the tablets of a family, that of Wullu (see Grosz Ktarzyna's The Archive of the Wullu Family). More than half of these are acts concerning lands (purchases, exchanges, divisions) of Arrapha and its surroundings. The toponyms evoked are clearly different from those of the Yorgan Tepe tablets. This makes it possible to assert that these are indeed tablets from the city of Kirkuk and that its former denomination was indeed Arrapha.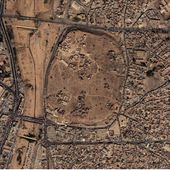 Ancient Kingdom of Arrapha (Modern Kirkuk) in Iraq
Ancient Kingdom of Arrapha (Modern Kirkuk) in Iraq
To know more Arrapha
Some historians see Arraphkha as the capital of the Guti kingdom, towards the second part of the third millennium BC. If the mention of this city is certain in the texts of that time, the outline of the country of the Guti is not known.
Arrapha appears in the archives of Mari. A temple of Addu is mentioned, especially in tablet I 75 written by Samsi-Addu which evokes the installation of "Nuzi" / "Nuzu" in this region. Some historians see it as the beginning of the Hurrian settlement.
Then the city was a regional capital of the kingdom of Mitanni. Nuzi was under his control, before being integrated into the kingdom of Assyria.
Here is a study of the cities destroyed during the Assyrian conquest:
Towns during Arrapha-Assyria war
Several other battles took place towards Arrapha; Between Babylon and Assyria around 1235 BC; Between the Assyrians and the Medes in 615 BC.
For an explanation on the colors of text, click here.
For French language, click here.
My notes of veracity :
During the Bronze Age, Arrapha was the name of the current city of Kirkuk: 4,5 / 5