Argos, in the Peloponnese is an important city in the history of ancient Greece. It is located a few kilometers from Mycenae. Besides, the two ancient cities now constitute a single commune called Argos-Mycenae. Homer situates it in a plain with rich harvests and calls it "Pelasgian".
The ancient site is still inhabited, however a number of monuments are still visible: the temples of Apollo Python and Athena, the vestiges of the Heraion, the thermal baths, a hippodrome, an agora, a theater, ...
The excavations that took place in the 1950s showed that walls and the fortress of Larissa, on the top of one of the hills overlooking the city, are from the Mycenaean period. The eastern flank of this hill has delivered a large number of objects showing a cult of Isis.
It is likely that the rise of Argos corresponded to the decline of Mycenae, around 1200 BCE. Besides, some historians have pointed out that Eschylus makes Agamemnon the king of Argos, which means that in the minds of the Greeks, Argos replaced Mycenae during Homer's narratives.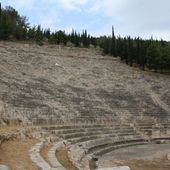 Argos lies on the fertile Argolid plain in the eastern Peloponnese in Greece. The site has been inhabited from prehistoric times up to the present day. Ancient Argos was built on two hills: Aspis ...
To know more Argos