Zakros is the archaeological site the most at the east of Crete. DG Howarth of the British School of Archaeology in Athens has begun excavation of the city around a Minoan palace built during years 1900 BC, rebuilt years 1600 BC and destroyed around 1450. Nikolaos Platon, a Greek archaeologist, has restarted them since 1961. They are still in progress.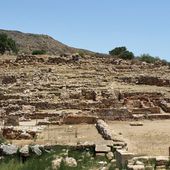 Zakros, on the eastern tip of Crete, was the last of the major Minoan Palaces to be discovered. This page contains a description of the Minoan Palace in words and pictures
To know more Zakros
The site is located near the sea, in the center of an isolated valley. The palace had, among other things, a food storage function, including for the locally produced wine, and trade with the outside world by sea.
The linear B texts referre to a town called "e-ko-so" or "Aksos". The merger with Zakros seems possible.
For an explanation on the colors of text, click here.
For French language, click here.
My notes of veracity :
Zakros is the site is the Minoan city of Aksos: 2.5 / 5