Sybrita is a site located in the Cretan mountains. The city is known as Sivritos in the municipality of Throno, mainly due to a coin dated the 4th / 3rd century BC:
Crete, Sybrita - Ancient Greek Coins - WildWinds.com
Greek Coins by Sear GCV Number Greek & Roman Provincial Coins by Moushmov Number Greek & Roman Provincial Coins by City, Region or Ruler
Coin of Sybrita
Some Italian and Greek excavations were carried out in wells where animal sacrifices and ceramic deposits attest to the creation of the site at the end of the Minoan period, around the 12th century BC: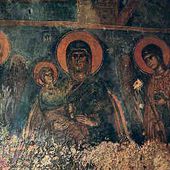 Sivritos was an important and autonomous city of the ancient Crete. The city was built in the location that today is the village of Thronos. It was located on a hill dominating the valley of Amari ...
http://www.interkriti.org/visits/agalini/sivritos/sivritos.htm
To know more Sivritos
The necropolis of Armeni is 10 km south of Rethymno. Extracts from 200 Minoan tombs, about 500 skeletons dating from 1300 to 1100 BC, were studied. They show that at that time, in this region, the Minoans had a diet rich in glucids, but with little meat and no fish. The average age of death is under 30 years. Non fish consumption is contradictory with some frescoed of palace and also with the location of the oldest Minoan sites that undoubtedly used the sea for their trade.
The conclusion is that, probably, dramatic events, such as earthquakes and raz-de-marées, have eventually forcing the population to take refuge in the mountains. In doing so, during the period that followed, which archaeologists call "the dark ages," they changed there lifestyle, declining due to food shortages, leaving navigation at sea to newcomers.
For an explanation on the colors of text, click here.
For French language, click here.
My notes of veracity :
Sivritos in Throno, was the Minoan city of Sybrita: 3/5