During 2005, Mr. Rainer Czichon and Jörg Klinger of the Berlin Free University started the excavation of the tell Oymaağaç Höyük, on the east side of Kızılırmak, 7 km northwest of Vezirköprü, Turkey. Five cuneiform tablets were unearthed in 2013: one of them evokes Mount Haharwa, which is known in the Hattusa archive as the mountain associated with the city of Nerik.
Also, it is very likely that the site of Oymaağaç Höyük was Nerik.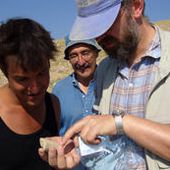 There are now substantial grounds to identify Nerik with the mound of "Oymaagac Höyük," near Vezirköprü. The site has been investigated since Fall 2005 by an interdisciplinary team under the ...
http://www.geschkult.fu-berlin.de/en/e/vaa/projekte/oymaagac_nerik_Projekt/index.html
Nerik archeologic project
In the middle of the 2nd millennium, the Gasgas destroyed Nerik during Hantili reign, and its remained in ruin for 300 years. Under Tuthaliya, the city has returned to the Hittites, but taken by the Gasgas from the Arnuwanda reign until the reign of Hattusili III. The last Gasgas king was called Pitagatalli, he was defeated on Mount Kassu, the current Ilgiz Dag. The Gasgas occupation did not prevent the Hittites to send offerings to the god of the storm of Nerik.
Hattusili III became king of Hakmis and made Nera and Hastira the border of the country which included Nerik. The royalty of Hakmis also included the mountain of Haharwa and the river of Marassanta. Thereafter, when the Hatti incorporating again Nerik, an administrator and a priest took care of the town, extensively mentioned as the sanctuary of the god of the storm.


My notes of veracity :
Nerik was the site of Oymaağaç Höyük: 3/5