Gortyne, bordering the plain of Messara, is best known for being the capital of Crete and Cyrenaica during the Roman conquest of 67 BC. In its heyday, during the 2nd century AD, the city was the most populous of Crete.
Gortyn became the most important city in the region during the last millennium BC, taking the place of Phaistos.
At the end of the 19th century, there were found several fragments of a great inscription now designated "Gortyn Code of laws", dated of the fifth century BC. This is one of the oldest laws on marriage, divorce, inheritance and adoptions, inspired by the rules of life on the island during a much older period.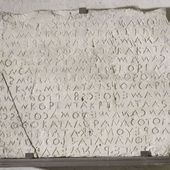 Extrait des Lois de Gortyne , musée du Louvre. Venez découvrir plus de 500 000 images des œuvres d'art des musées Français, à partager, collectionner et télécharger
http://art.rmngp.fr/en/library/artworks/extrait-des-lois-de-gortyne_calcaire
Gortyne laws
But archaeological excavations have shown that the city has been inhabited continuously during 5000 years, from the late Neolithic period, around 4000 BC, through the Minoan period.
The ancient Gortyn city in Crete - Capital of the Roman region durinh antiquity - tourism, picture, monuments, archaeology
To know more Gortyn
In the Iliad and the Odyssey, the city is mentioned surrounded by strong walls.
His only reference during the Bronze Age comes from mythology: it was under one of the platane trees of Gortyne that Zeus transformed into a bull, has joined Europe after crossing the sea toward Crete.
Also, it is likely that this city already had that name to the Bronze Age.
For an explanation on the colors of text, click here.
For French language, click here.
My notes of veracity :
Gortyne already had that name during the Bronze Age: 3/5