At Ugarit, were found a letter from a queen describing his trip: "At sea, I write this document to your attention. Today I stay at Maloum, tomorrow it will be to Adaniya, the third day to Zunnahara and the fourth to Unug. Here, you are informed. "
Zunnahara is mentioned with Adaniya in tablets describing military operations attributed to Mursili I, and when Arnuwanda 1st shipping through the Kizzuwatna (KUB XXIII 21). In the latter text, the crossed cities are Zunnahara, Adaniya and its bridge, Sinuwanda, Hiya [...] and Zullita.
Zazaharuwa is a border town of the kingdom of Mukis.
The above routes show that Zunnahara was at the east of Adaniya. It is therefore logical to consider that the city allowed to cross another river in the region : the Ceyhan, formerly Pyramos. Yakapinar is the place in the area with the oldest bridge on the Ceyhan. The city called Mopsuestia, or Mopsus Mopsucrenae during the Greek period. Under the Seleucid Empire, the city took the name of Seleucia on Pyramos. Then, in Roman times it was called Hadriana under Hadrian, Decia under Decius. When it became the capital of the Armenian Kingdom of Cilicia, in the 13th century, it was baptized Mamistra then during the 1960s, Misis.
Yakapinar holds a record in the name changes over the last three millennia.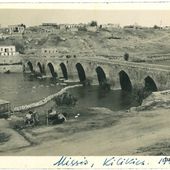 Missis et son pont romain - Turquie-culture
Missis et son pont romain
http://turquie-culture.fr/pages/photographies/sites-archeologiques-et-historiques/missis-et-son-pont-romain.html
The roman bridge of Missis