In the texts of Hattusa, such a town name is mentioned several times:
"Aruna" is a border city of the country of Kizzuwatna,

In CTH 133, Arana is an assignment city of the Ismerik warriors, it appears also to be a city of Kizzuwatna. For this reason, I believe it is the same city.

In the annals of Hattusili the first, Zaruna was destroyed during the Hassuwa campaign.
This same campaign of Hattusili is also narrated on a tablet from clandestine excavations, addressed to the King of Tikunan. The checking the informations helped to understand that the running order was: Zaruna, Mount Atalur, Purana River, Hassuwa, Zippasna and Hahha.
Finally, in the Alalah archives, the city of Zaruna is one of seven fortresses, and commercial places, that Idrimi, the king of Alalakh, conquered during shipments to the country of Hatti.
The word "aruna" means "sea" in Hittite. For this reason, it is possible that there were errors of interpretation of the Hittite texts in the light of a city which had also this name.
The site of Xanthos, known to be called Arina during the Hittite period, is a possible candidate. However, the distance of the site with other cities mentioned in the above text is hardly acceptable, unless the Kizzuwatna was before the middle of the 2nd millennium, a maritime country.
It is more likely that this place name, reads "Arouna", means a city of Cilicia. The landscape would be different in the 2nd millennium BC by the contribution of alluvium of the major rivers during 4 millennia. Tarsus, for example, was a sea port.
Some researchers have positioned this place to the present Haruniye fortress, in the municipality of Düziçi, Osmaniye province in Turkey, without certainty.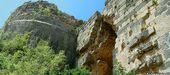 Haruniye - Forteresses d'Orient
Lorsque les armées de l'Islam marquèrent une halte dans leur marche triomphale sur les terres byzantines, la Cilicie devint l'une des frontières de leur tout nouvel empire. Il semble qu'au VIII...
Haruniye forteress
This fortress controlled the road crossing the Amanus mountain. The building is deemed to have been built in the late eighth century by Caliph Harun al-Rashid.
In the Assyrian archives of the early 1st millennium BC, a city of Harrua is mentioned in the land of Que, with those of Ushnanis and Qumasi. I think it is the same city, with a contraction that saw the removal of the "n".
It may, moreover, that this denomination is found in "Huhhura" or "Huwahhuwarwa" mentioned as a border city of the country Tarhuntassa.
For an explanation on the colors of text, click here.
For French language, click here.
My notes of veracity :
During the 2nd millennium BC, Zaruna, Aruna, Arana designates one city near the Kizzuwatna: 3/5
During the 2nd millennium BC, Aruna, Arana and Zaruna are different names of Xanthos: 1/5
During the first millennium BC, Harrua is a city of the country of Que: 3/5