Yumurtalik is a town at the south of Adana, Turkey. In this city, an ancient fortress called Aias, built on Mount Zeytinbeli Höyük, dominate a port. It was active around 2000 BCE. In Greek, it was called Aleios or Aigai, in Latin Aegee. Some Hittite potteries from the 17th century BC have been found there.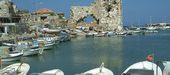 Toutefois, forte de sa situation idéale au sein de la plaine cilicienne et de l'ouverture commerciale voulue par les monarques arméniens - elle faisait partie du domaine royal - Ayas devint à pa...
Fortess of the Middle ages
Among the many seals and scarabs found in Cilicia, in the Adana museum, some come from Zeytinbeli Höyük, including a beetle dark red serpentine.
South Coast of Turkey - The town of Yumurtalık in Turkey
Adana Adrasan Akbük Akyaka Alanya Alaçati Altinkum Anamur Antakya Antalya Arpaçbahşiş Ayaş Aydın Ayvalık Belek Beldibi Bodrum Boğazkent Bördübet Bozburun Bozcaada Bozyazı Burhaniye Çam...
To know more Yumurtalik
The landscape of the region had to be different in the 2nd millennium BC by the contribution of alluvium of the neighboring rivers during 4 millennia. Tarsus, for example, was near the sea. Also it is possible that this city and the surrounding hills were an island or peninsula in antiquity. Herodotus described the Cilicians as Hypachéens or Hypachaoi, ie "sub Achai". I think it can come from a simple geographical fact: the Cilicia was at the north the island of Agai. A Greek origin of the oldest peoples has long been seen there. This is perhaps the city evoked in song VI of the Iliad, when Glaucus describes his genealogy and that Bellerophon was taken into enmity by the gods, he wandered alone in the desert of Alèios before fighting the illustrious Solymi.
There is reason to wonder if it is not the city of Alha or hahha mentioned as having been destroyed by Hattusili I around 1600 BC:
During a campaign against the Arzawa after that Ninassa opened its doors without a fight, people Ulma give two battles before being defeated. The following year, after that the Parmanna important center had opened its doors, Hattusili marched against Alha he destroyed.

This same campaign of Hattusili is also narrated on a tablet from clandestine excavations, addressed to the King of Tikunan. It help to understand that the running order was: Zaruna, Mount Atalur, Purana River, Hassuwa, then Zippasna and Hahha.
The city name "I'e" is one of seven fortresses, and commercial places, qu'Idrimi king of Alalakh, conquered during shipments to the country of Hatti. The probable date of the taking of the city and the relative position of this place with others makes this rapprochement quite plausible.
This would then be an explanation of the emergence of a country of navigators called "Ahhiyawa".
For an explanation on the colors of text, click here.
For French language, click here.
My notes of veracity :
Haha and Alha were the fortress and the port of Aias at Yumurtalik: 2.5 / 5
"I'e" designate the fortress and the port Aias at Yumurtalik: 3/5