Shabwa is the name of a province in Yemen from an old town of the same name. The excavations were conducted by missions with French archaeologists: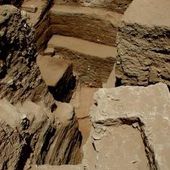 Références bibliographiques - Architecture de l'Arabie du Sud antique
2008 Latest results, new dating and recent evidence for the fortifications of Shabwa (Hadhramawt), Proceedings of the Seminar for Arabian Studies 2007, Archaeopress, Oxford, Londres, (à paraître)...
To know more about Shabwa
In the central sector of the city, dense housing has been dated to the 13th century BC. According to epigraphic sources, Shabwa was the capital of the kingdom of Hadramawt during much of the 1st millennium BC. The city was connected with the kingdom of Shaba, which had a phonetic proximity, but the latter seems rather to have been centered to the west of Shaba.
The incense trade was the main activity of the city: it was product to the eastern of Hadramout and shipped to the port of Quani or the Red Sea.
Wadi Dura, further upstream, shows a human occupation during the Bronze Age and the Neolithic. There was found flint arrows.
His name was Shabouat in South Arabian and Sabata in Greek.
For an explanation on the colors of text, click here.
For French language, click here.
My notes of veracity :
Shabwa, Sabata in Greek, was the capital of the kingdom of Hadramawt during the 1st millennium BC: 4/5