The site of Makaynun consists of deposits accumulated to a height of 7 m and an area of 600 by 400 m. It is located to the east of Hadramawt, to the east of the current country of Yemen. It was excavated by a team of French archaeologists in the late 20th century.
The oldest layers are reminiscent of the Neo-Assyrian iconography and were dated from the 10th to the 7th century BC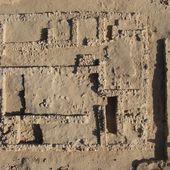 Builgind G - Makaynun - Yemen - 2006
Kite aerial photography of the excavation of the building G of the iron age on the site of Makaynunin Hadramaut, Yémen. (N° MAK_061129_002). Between 2000 and 2008, excavations ave been carried ou...
Makaynum : Building G
There was found a South Arabian language inscription from the time of King Karibilu of Saba, dated to the 8th century BC.
Another, more recent, evokes a fire in the town of Thawbat, which appears as the probable ancient name Makaynun.
For an explanation on the colors of text, click here.
For French language, click here.
My notes of veracity :
Tawbat is the former name of the Makaynun site: 2.5 / 5