It's an Cretan antiquarian, Minos Kalokairinos, who discovered the ruins of Knossos in 1878. And in 1900, the British archaeologist Arthur Evans bought all the ruins and associated his name at the restore of the most visited site of Crete.
New studies show that around the palace, the ancient city had many populations. They were conducting trade across the Mediterranean.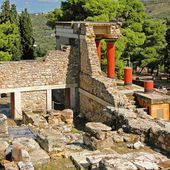 Crête: la cité de Knossos était trois plus grande que ce que l'on croyait
Récemment, les archéologues ont découvert que l'ancienne cité de Knossos était bien plus grande que ce que l'on croyait jusqu'à présent. Cette impressionnante ville était un important centr...
http://decouvertes-archeologiques.blogspot.fr/2016/04/crete-la-cite-de-knossos-etait-trois.html
The larger of Knossos
The necropolis of Knossos was found on the hill Fourni between Ano and Kato Archanes:
Although the Linear A is not deciphered, by attributing the same phonetic values than those of Linear B, it is accepted that the place name "KU-SU-NI" in Linear A is Knossos. Also, the name of this city has remained unchanged for millennia before our era.
This questions the name issue of Egyptian hieroglyphs. Today Hensu, Kensu or Kounsu, the capital of the pharaohs of the ninth and tenth dynasties of the first intermediate period, is recognized as Heracleopolis Magna, Henensu. The same place name is probably written « Kns.t » on the pyramid of Unas. The pharaoh is called "the great bull who smiles to those of Kns.t".
For an explanation on the colors of text, click here.
For French language, click here.
My notes of veracity :
Knossos had that same name during the Bronze Age: 3/5