This is a city name that has not been changed from the Bronze Age to the beginning of our era, but has a contemporary localization problem.
During the 2nd millennium BC, Gazziura is mentioned in Hattusa archives about multiple invasions of Gasgas installed further north. The tribes of Kurustama and Gazziura came from the northeast of Tapikka, which was the border between the Hatti and the land of Gasgas.
At the beginning of our era, Gaziura was a residence of the kings of Pontus. Strabo reports the abandoned city of his time: "The Iris has its source in the Pontus. After Comana, it flows westward across the plain of Daximonitis. Then it turns to the north to Gaziura, a royal city in the past, now deserted. It folds eastward after receiving the Scylax and some other rivers and after it flows along the walls of Amasya."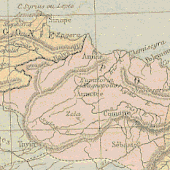 Strabon - Géographie, livre XII, 3
Géographie de Strabon (XII, 3), présentation de la région Pontique
Strabon Geographie
Dio Cassius notes that Mithridates VI of Pontus taken a position in Gaziura against the romanTriarius .
Pliny the Elder mentions that Amasia, on the Iris, is in Gazacène.
Researchers located the city north of Zila. Others see it as another name of the present city of Turhal. I think that this ancient city is to be located towards the town Arzupınar currently very close to the south of Turhal: where the Yeşilırmak - the classic Iris - actually changes its direction.
For an explanation on the colors of text, click here.
For French language, click here.
My notes of veracity :
During the Bronze Age, Gazziura was the classic Gaziura: 4/5
The classic Gaziura was located near Turhal: 3/5