Located in Anatolia, north of the Hittite capital Hattusa, 3km southwest of Ortaköy, two palaces (called A and B) with massive walls, and numerous cuneiform tablets were found: more than 4000, including 600 in Hurrian. The excavation is the work of a team of Turkish archaeologists, led by Mustafa Aygül and Suel, during year 1989.
Many of the tablets were contemporaneous with those of Tapikka because the same names are mentioned. The texts are accurate, many cities are indicated. This information helped to identify the places of employment of most scribes. Archaeologists have concluded that Ortaköy was called Sapinuwa.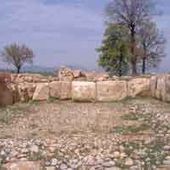 Ortakoy Sapinuva Archaelogıcal Research
THE SITE OF ORTAKOY-ŞAPINUWA Ortakoy Hittite City is aflat and extensive settlement situated on the plateau stretching as terraces on the northern slopes of the Valley of Özderesi, a tributary of...
To know more on ORTAKOY-ŞAPINUWA
A few researchers see a school of scribes in Sapinuwa. Some of them were Hurrian. It is through their letters that we understand that the Hurrian name of King Tuthaliya III was Tasmisarri.
A letter alluded to the fact that the Great King resided in Sapinuwa, especially during the invasion of Gasgas. Some prints hieroglyphic seals of Tuthaliya III and his wife Taduhepa confirm the writings. Researchers have observed that this Great King was contemporary of the last years of life of Arnuwanda I, and of a king Hattusili resident of Hattusa (Hattusili II challenged by many historians, but those tablets of Tapikka and Sapinuwa mention him).


My notes of veracity :
The Ortakoy site of Çorum, Turkey, is the former Sapinuwa: 4/5