Around 1925, Czechoslovakian archaeologists, led by Bedrich Hrozny, made the first serious excavation of the site Kültepe, located 19km northeast of Kayseri in Anatolia. They had been attracted by informations provided by vendors of cuneiform tablets from illicit excavations.
The excavation of the main knoll has identified a palace destroyed by fire with thick walls of 1.50 m to 2.30 m; but not tablets.
Helping by more specific information, the surrounding fields were examined, showing fragments of tablets and walls of mud brick habitats. It was the right place for the former lower town: in the end, almost every room exhumed have provided its share of tablets of 10, 20, 80, sometimes up to 250 units. Their translation said that it was the Karum, ie of a commercial place. The correspondence letters were contracts and financial documents, were done by merchants. Their names were Ina, Su-Laban, Su-Anum, Lakipum, Pusu-Kin, Sumi-Abijah, Assur-muttabbil ... It appeared that, while most of these traders resided elsewhere, the family of Pusu -Kin lived at Kanes. The Ilumeti merchant has delivered their metals. In short, the translation of the tablets showed that Kültepe was, during the third millennium BC, the city of Kanes. It was a place of living of Assyrian-Babylonian merchants. Kanes is the name of paleo-Assyrian, the city was called Nesa by the Hittites. It is now recognized that most of the 21,000 exhumed tablets date from the first half of the 2nd millennium.
The towns of Purushattum,Wahsusana and Zalpa, which also disposed a "Karum" are also mentioned. These elements are a major source of this blog.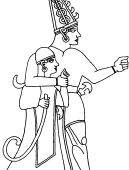 hatti | Kaniš, un comptoir commercial assyrien en Anatolie
Au début du second millénaire av. J-C., les Assyriens, habitants de la cité-Etat d'Assur, en Haute Mésopotamie, organisent des échanges intensifs avec l'Asie Mineure et y installent des compto...
To know more about Kanes
Since 1948, excavations are still ongoing by Turkish archaeologists. A discovery has recently been made: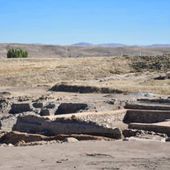 Les Découvertes Archéologiques
Une habitation de 4500 ans appartenant à un important dirigeant a été mise au jour au sur le site archéologique de Kültepe dans le centre de la Turquie. " Il n'y a pas d'aussi grand bâtiment ...
http://decouvertes-archeologiques.blogspot.fr/2013/11/un-batiment-vieux-de-4500-decouvert-en.html
Découverte récente à Kültepe