At Kerma, Sudan, south of the third cataract of the Nile, a Swiss archaeologists mission, led since 2002 by Matthieu Honegger, continuing research on three successive cities large areas, dated from 3000 BC to 400 AD.
Many sites Mesolithic and Neolithic identified in this region show that it was densely inhabited during antiquity. Grain storage and livestock farming are certified in it around 3000 BC.
From 2500 to 1500 BC, archaeologists have unearthed the capital of the kingdom, associated with a necropolis. Today this ancient country is called most often kingdom of Kerma by default because the ancient name of the latter does not unanimous. It is likely that the kingdom and its capital were called by the same name. Some researchers, however, give it the name of Kush or Cush based on Egyptian hieroglyphics.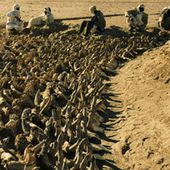 Kerma - Mission archéologique suisse au Soudan
To know more about Kerma
I think possible that this kingdom is actually that of Kush, which was called Kish by the Mesopotamians during the 3rd millennium (see here "Kish in the 3rd millennium: the site of Tell el-Oheimir ? Or the land of Kush?".) in the pre-dynastic and even during the Old Kingdom.
Despite its protective walls, the city of Kerma did not resist the pharaohs of the eighteenth dynasty. They have built not far away, on the site of Doukki Gel, a town with all the characteristics of an Egyptian city called Pnubs.
For an explanation on the colors of text, click here.
For French language, click here.
My notes of veracity :
The ancient city of Kerma, Sudan, was called Kush: 2.5 / 5