Buhen is a fortress located in one of the most populated regions of Lower Nubia. This is a huge fortress built by the ancient Egyptians, with its double wall and moat.
Champollion and Rosellini visited this site around 1830. It had long been known to the border between Egypt and Sudan. Since the small city of Haifa, a tower south of the Buhen temple, built of brick, was visible 4 km away.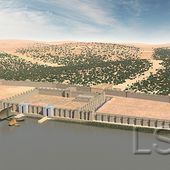 Bill Riseman's virtual re-creation of the ancient Egyptian fortress of Buhen, designed in 1994 to push the limits of 3D archaeological visualizations. The project was a forerunner of Learning Sites
Re-creation of the forteress of Buhen
But Buhen was not only a forteress. Archaeologists have found there:
During the Old Kingdom, industrial plant for copper, ore and gold work.

During the Middle Kingdom, paved roads and buildings of clay tiles arranged a gutter in the center.
The fortress was the occasion of the establishment of an entire population, creating a city estimated at over 5,000.
Since the 1980s, the former Buhen site lies under the waters of Lake Nasser. Its monuments were dismantled, loaded onto trucks and reassembled.
Buhen is mentioned in a Nubian fortress list of the papyrus "Ramesseum Onomasticon".
The stele of the commander of the fortress of Buhen, Sepedhor, found on the site, is the document that identifies conclusively the name of the ancient town : "I was a valiant commander of Buhen, no previous commander has done what I ' have done. I built a temple to Horus, Lord of Buhen, to the satisfaction of the Prince of Kush "(Christophe Barbotin in" Ahmose and early Eighteenth Dynasty ").
Horus lord of Buhen is writed on other stelae of this site.
For an explanation on the colors of text, click here.
For French language, click here.
My notes of veracity :
Buhen on the border between Egypt and Sudan, is identified since 3000 BC: 5/5