In Egypt, in the Fayum, near the town of Biyahmu were two huge seated statues of Amenemhat III. According to the study that follows, during the Bronze Age, the environment of the region was different from today:
Biahmu and the huge pyramidal pedestals
Biahmu and the huge pyramidal pedestals It was not at all easy for me to find the path of this extraordinary site which seems to be forgotten by all. This is not the agglomeration of Biahmu, 7 km ...
Biahmu and its pyramidal pedestals
Herodotus, in the second volume of his investigation, accurately describes this place: every statue was at the top of a pyramid. And the two monuments were floating on the water. He attributes them to a sovereign named Moeris which bears the same name as the lake he calls artificial (we now know that this is a natural depression) located south of Fayum. He says he saw it was done by the hand of man, fed by the Nile six months a year and flowing to the Nile during the remaining six months.
Here is a digital reconstruction of the site as it was in ancient times: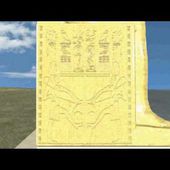 A Reconstruction of the Monuments of Biahmu by Ben Baker and Chris Kirby. On display at The Herbert Art Gallery & Museum; in connection with the Interactive Worlds Applied Research Group, Coventry ...
A Reconstruction of the Monuments of Biahm