Located on a rocky outcrop along the Tigris, the site of Qal'at Sherqat is in three parts:
1. The old Town, at the top of the spur, the oldest city in the region;
2. An extension downwards, towards the south, dated from the 2nd millennium;
3. A port, the Karum, a place of business for the merchants of the city.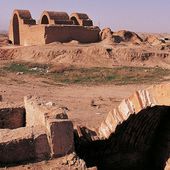 La cité antique d'Assour se trouve sur les rives du Tigre, dans le nord de la Mésopotamie, dans une zone géo-écologique particulière, à la ...
Unesco end Assur
The site is explored in 1898 by German archaeologists. Friedrich Delitzsch from 1900, Robert Koldewey and Walter Andrae have unearthed the major landmarks. More recently, in 1990, excavations were pursued by Iraqi and German teams, including B. Hrouda of Munich University and R. Dittmann.
The oldest texts refer to kings difficult to position in time : Tudiya, Ititi, Azuzu, Aminu, Silulu, Shalim-ahum, Ilu-Shuma, Erishum ... In the early writings, it is made reference to buildings in the city of Assur, especially for the god Ashur. Also there is no doubt about the local place name: Assur, which later became the religious capital of Assyria. However, the oldest scripture of the deity of the city is rather "An-sar". Also, I think some people also called the city "Ansura" or "Anzura".
Around 2500 BC, the Assyrian was a city-state ruled by a vicar of the god Ashur. The city was a powerful place of commerce and an important religious center. It was incorporated into the empires of Akkad and Ur before being submitted by Shamshi-Adad, who, with his son Ishme-Dagan, based in Mari, have ruled on all the Upper Mesopotamia around 1800 BC.
It was from 1365 BC, after submitting the kingdom of Mitanni, Assyria became a major power for about 700 years.
Egypte,Asie Mineure,Grèce,Perse,Mésopotamie
Antikforever.com c'est 4000 ans d'histoire : l'Egypte pharaonique, l'Asie Mineure, la Grèce, la Perse, la Mésopotamie, la Palestine et la Syrie et un dictionnaire sur l'antiquité de près de 400...
To know more about Assur