Tarhuntassa and/or "the country of the Hulaya River" became a kingdom in southern Hatti about 1280 BC. Describing its border towns, two treaties were found in Hattusa, CTH 106 first - between Ulmi-Teshub and a Hittite king unknown - then Bo 86/299 - between Tuthaliya IV and Kurunta.
Most of the names are not identified today. Only a few cities or states mentioned on other tablets, allowed a glimpse of the geographic positioning of this kingdom. The place names referenced in this blog can be accessed by clicking on the city or the country. For most experts, the Hulaya river was the Carsamba Su descending from the depression of Beysehir via the Sugla Gölü, to the plains of Konya. Many mounds actually dated from this period were found there along the river.
Here are the cities and countries stipulated in these treaties. The researchers agreed to see a boundary from the west, and describes the limit with Hatti:
Towards the Pitassa: the hole of Arimmata belongs to Pitassa;

Towards Ussa, Zarata to Hulaya, Hazaruwa of the country of Ussa;

Towards Sinnuwanta: Mount Lula with the city of Ninainta belongs to the country of Hulaya;

Zarnusassa towards the border passed by the harmina of Hulaya, but I have made Uppassana its border;

Towards Zarwisa: Mount Sarlaimmi and the wet place with a river;

Towards the High Mountain: Saliya of the Hatti.
Thereafter the two treaties have differences, probably linked to achievements made towards the south coast between the two dates of writing.
CTH 106 :
Towards the enemy country : Walwara and its various outbuildings ; Mata, Sanhata, Surimma, Saranduwa, Tatassi and from Saranduwa any cities which will be achieved by force of arms up to the countries of the Hulaya River;
While Bo 86/299 is much more precise:
I understand that in the first treaty the country of Tarhuntassa had no access to the sea, to its south was one (or more) enemy maritime country.
Even at the date of the second treaty, Bo 86/299, two cities near the sea are still not part of Tarhuntassa: Usawala and Hawaliya. Others were incorporated into the kingdom : Istapanna, dependencies of the city of Sallusa and Saranduwa beachfront.
This new kingdom was it the juxtaposition of two regions, the country Tarhuntassa and the country of the river Hulaya, or the two names were the same territory?
It is likely that these two countries are those that the Greeks called Lycaonia and Isauria, a few centuries later.
"Tarhuntassa" come from the Tarhunta god, represented, on a low relief at Ivriz: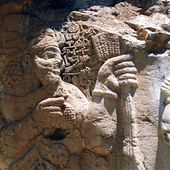 Detail of the Ivriz Relief (Turkey)
Home / Writing Systems (A-Z) / Hieroglyphic Luwian / Photo Gallery / Detail of the Ivriz Relief (Turkey)
http://lila.sns.it/mnamon/index.php?page=Immagini&id=46&img=437&PHPSESSID=fpxoeogttmuhz&lang=en
Detail of the Ivriz relief