In his annals, during the 7th century BC, Ashurbanipal mentions, among the kings of Egypt, Pakruru king of Pisaptu. The merger with "Per-Sopdu" of the hieroglyphics phonetically is rather obvious. This is one of the cities east of the Delta, which was honored the patron god of the borders : Sopdu.
Built by Ramses II, the Sopdu temple was found by Edouard Naville in 1885 in the municipality of Saft el Henneh or Tall Saft al-Hinnah.
The name of Per-Sopdu is attested during the reign of Piankhi of the 31st Dynasty. The city is listed on the stele depicting his victories over the northern cities of Egypt.
A statue of the Metropolitan Museum, dated to the reign of Nectanebo I, was probably found this site: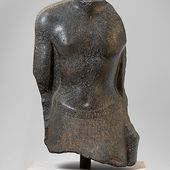 Torso of an official of Nectanebo I | Late Period | The Met
The name of the man represented is not preserved, but he proudly asserts his attachment to Nectanebo I by placing the king's cartouches at the head of the texts on the back pillar. The slightly ...
Statue of Per-Sopdw