Kelenderis or Celenderis is a certified Byzantine name for the modern Aydıncık port on the south coast of Turkey. The current name dates from 1965. Previously the city was Gilindire by deformation of the Byzantine name of Kelenderis.
The mythology says that Kelenderis was founded in the second millennium BC by Sandakos, a Phoenician who came from Syria. The city was deemed to have been colonized and developed by the Ionians.
In the Hellenistic period, it was allied to the Ptolemies of Egypt.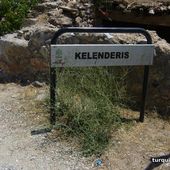 Kelenderis, un ancien port antique
Détails Catégorie : Sites archéologiques et historiques Affichages : 945 Les ruines de l'antique cité de Kelenderis se trouvent dans le petite ville de Aydincik sur la côté méditerranéenne ...
http://turquie-culture.fr/pages/photographies/sites-archeologiques-et-historiques/kelenderis-un-ancien-port-antique.html
To know more about Kelenderis
Archaeological excavations conducted by Levent Zoroğlu of Selçuk University since 1987, showed that at the Acropolis, the earliest layer dates from the 8th century BC. A bronze plaque revealed that Kelenderis then called Saranduwa.
Excavations of Kelenderis
However, it is likely that the ancient Hittite city is not the modern city, but a very close location: on the island in front, on which ancient relics exist, or at a place called Selindi by travelers of the last century, which seems phonetically closer of Saranduwa.
The texts found in Hattusa mention such a city name, or a name approaching, Sariyanda, Saranduwa Suruta :
Saranduwa appears among the border cities of Tarhuntassa;
At the time of King Tuthaliya, CTH142 shows a list of cities who supported the king of Arzawa : Sariyanda, S / Parmana, Uliwanda …
For an explanation on the colors of text, click here.
For French language, click here.
My notes of veracity :
Kelenderis was called Suruda, Saranduwa or Sariyanda under the Hittites : 3/5