The modern city of al-Ṭihnā Ǧabal, Tihna el-Gebel, Tihna al-Dschabal, Tihna el-Jebel, or simply Tehne, is located 12 km north of Minya, on the east bank of the Nile.
The literature on the ancient Egypt mentions that this site had the following names: Mer-Nefer, Per-Imen-mat-khent, Dehenet, Akoris. Is it possible that the same site had all these designations during dynastic Egypt?
One explanation lies in the detailed description of the ruins: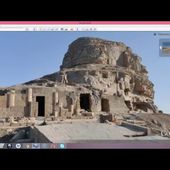 A brief journey into the east bank of the Nile and the ruins of Akoris. Egyptian: Mer-nefer(et) (Old and Middle Kingdoms), Per-Imen-mat-khent(j) (New Kingdom), or Dehenet (since 26th dynasty) ...
The ruins of Akoris
Several ancient sites exist:
to the southeast of Tihna el-Gebel, a first group of ruins dated from the 4th to the 5th dynasty is associated with the tombs of mayors of Mer-Nefer.

further north, there are vestiges of a period from the Middle Kingdom to the Greco-Roman period, with a Amun temple dated of the New Kingdom : an oil supply stele to Amun-Re temple by Osorkon III was found there. We know that the ancient Egyptians gave a name to the temple and another to the places of residence. Per-Imen-Mat-Khent, or Amun-Mui-Khanty, was to be that of the temple of Amun.

Dehenet is the name which is phonetically close to Tihna. It is the town with the human residences.
Acôris, or Akoris, is the Greco-Roman designation.
For an explanation on the colors of text, click here.
For French language, click here.
My notes of veracity :
Mer-Nefer is the name of the ruins of the Old Kingdom, at the southeast of Tihna el-Gebel: 4/5
Per-Imen-Mat-Khent is the name of the ruins around the temple of Amun, at the east of Tihna el-Gebel: 4/5
Dehenet is the dynastic name of Tihna el-Gebel: 4/5
Akoris is the Greco-Roman designation of Tihna el-Gebel: 4/5