The Hittite archives evoke a city called Ampi:
The exiled prince Mashuiluwa has entered the first in the country of Mira and occupied the town of Impa before seizing other other more far cities, including Hapanuwa.
Impa is the first town of the Mira country to have been submitted by Mursili II in its war against the Arzawa.
At the end of this war, it was fortified by Manapa-Tarhunta, along with the cities of Arsani and of Sarawa.
Today, this city is not localized.
In the letters found at Amarna, Egypt, a port is designated by the name of Ampi: The letter EA71 is representative of the relative position of Ampi, near Sigata and Sumur. This is a letter from Rib-Hadda of Byblos to an Egyptian named Haya: "Why are you negligent by not talking to the king of the sending of archers to take Sumur? Who is Abdi-Asirta, a servant and a dog, for him to take the land of my king for himself? [...] Let's hope it does not meet enough Apiru to take also Sigata and Ampi."
I think that Ampi and Impa designate cities on the southern coast of Anatolia, near Sigata and Sumur, in line with my proposal location of Sumur. The vowels were of little importance at that time, and proper names were distorted by the local languages.
Ancient Olympos, which was an important Lycian town, is a possible candidate: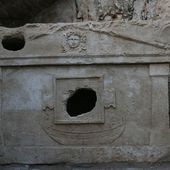 Olympos était une cité antique de Lycie en Turquie, à proximité brûlent les flammes éternelles de la Chimère. Description, histoire et photos d'Olympos et du Mont Olympe. Côte turquoise et ...
To know more about Olympos