Here is a detailed study of the particulars of the town of Hardai of the Old Kingdom, written "Hwt-rdw" ie Hut-Redu in hieroglyphics:
This study is based not only on words "Anubis, lord of Hardai" but also on historical events, such as texts of the reconquest of Kamose, the capture and destruction of the city by Phinehas and the military battles of Piankhy .
Here is another example of noble attached to the cult of « Anubis, lord of Hardai »: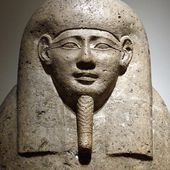 Detail of the Lid of the Sarcophagus of Padiinpu in the Brooklyn Museum, August 2007
By LaurieAnnie. Lid of the Sarcophagus of Padiinpu Limestone Ptolemaic Period, 305-30 BC From Hardai (Kynopolis) Accession # 34.1222 Although anthropoid, or mummiform, coffins made of stone instead...
Sarcophagus of Padiinpu
Some Egyptologists believe that this city of the Bronze Age is the one that was called Cynopolis during the Greco-Roman period.
Hidden texts show a close with the necropolis of Charouna. Today Hardai is predominantly positioned at Saka, Esh El Shekh Fadl or Kays:
Website of the Institute for Egyptology, Vienna University (Austria): Christiana Köhler
This area was an important part of the 17th Upper Egyptian nome in Pharaonic times because its nome capital, ancient Saka, Henu, Input, Hardai or Kynopolis, as the city was variably called, is most
Website of the Institute for Egyptoligy of Vienna
The authors of the study believe to another location, yet to be specified, place in the mid of the 17th and 18th nomes of the Greco-Roman period.
I give much credit to contemporary names. Very close to the necropolis Charouna is a village of "Ridah". It that can be that place. The phonetic could be closer to the way the city name was pronounced.
For an explanation on the colors of text, click here.
For French language, click here.
My notes of veracity :
Saka were the ancient town of Hardaï: 2/5
Esh Shekh Fadl was the ancient town of Hardaï: 2/5
El Kays were the ancient town of Hardaï: 2/5