Tlos was an important city of the Greco-Roman Lycia. The archaeological site of this city is located in the Xanthos valley, southwest Anatolia.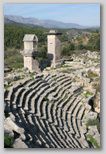 Photos et description de Tlos, antique cité lycienne en Turquie. Côte turquoise et Lycie. Tour de Turquie en photos, tourisme et histoire.
http://www.turcotour.org/turquie/tlos-site-archeologique.php
Tlos pictures
Archaeological excavations are in line with the texts found in Yalburt and Hattusa, which testify to the existence of this city during the 2nd millennium BC as being Tlawa or Talawa.
Thus, on the writing of Yalburt, Talawa appears as a city of Lukka which was submitted without resistance, and is followed by a king construction work on the divine mountain of Patara. The next mentioned cities undoubtedly show that the war operations described take place at the mouth of the Xanthos, the heart of what would become the country of Lycia.
But in these Hittite texts, it is not certain that Dalawa means that city. I think the defection of the city of Dalawa, which was the pretext for a war between Madduwatta supported by the Hittites in one hand and the other hand Arzawa helped by the country of Ahhiyawa. It is not Tlos: many other toponymes like that exist south-western Anatolia.
The old name of "Lycia" Lukka comes from the people of "Lukka" mentioned on Egyptian walls among the peoples of the sea: