The city of Attarimma is mentioned by several texts during the 2nd millennium BC, found in Hattusa, the ancient capital of the Hittites:
1. A treaty was concluded between Mursili II and the Prince Kupanta-Kurunta of Mira. He mentioned that three cities of Lukka: Attarimma, Huwarsanassa and Suruda were recognized as being the possessions of Kupanta-Kurunta. An ultimatum from King Mursili II to Uhhaziti of Arzawa, is a request for the return of deportees of Huwasanassa, Attarimma and Suruta, probably consecutively to the conflict that preceded the treaty between the countries of Mira and Lukka.
2. A so-called letter of Tawagalawa tells how Piyamaradu, an opponent whose extradition was requested, destroyed the city of Attarimma "by burning it to the wall of the king." Attarima appears be an ancient capital. Perhaps of Lukka, as some have noted that the name "Attarimma" is probably the origin of "Trmmili" whereby the Lycians named themselves.
Most experts consider that Attarimma is the Termessos classic. Suruda appears to be the same city as the one designated by Suranduwa mentioned later as a border city of the country Tarhuntassa not far from Termessos. Following this treaty, the country of Mira appears strengthened to the northern part of its territory.
Archaeological excavations confirm that the ancient city of Termessos, located about 35 km northwest of Antaliya, in the high mountains at over 1,000 meters of altitude, was occupied from 2300 BC. It was one of the most important cities of the Bronze Age, on the border of the lands of Hatti, Mira, Lukka and Pitassa.
Egypte,Asie Mineure,Grèce,Perse,Mésopotamie
Antikforever.com c'est 4000 ans d'histoire : l'Egypte pharaonique, l'Asie Mineure, la Grèce, la Perse, la Mésopotamie, la Palestine et la Syrie et un dictionnaire sur l'antiquité de près de 400...
Termessos on Antikforever
Alexander the Great failed to conquer the city of Termessos. He had to make a detour, taking revenge on the nearby city of Sagalassos.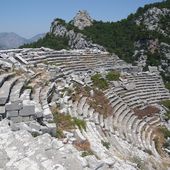 Termessos, cité antique au coeur des montagnes
Termessos se trouve à un peu plus de 30 km d'Antalya à plus de 1500 mètres d'altitude. Ce site très spectaculaire où les bâtiments et les tombeaux s'inscrivent dans le paysage montagneux est ...
http://turquie-culture.fr/pages/photographies/sites-archeologiques-et-historiques/termessos-cite-antique-au-coeur-des-montagnes.html
Termessos history