Early in the first millennium AD, Pinara was one of the six great ancient cities of Lycia, southwest of the modern Turkey. Today, it is an unusual site, isolated in the pine forest, overlooking a cliff riddled of temples and tombs carved into the rock, near the village of Miner in the province of Muğla.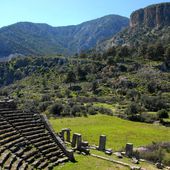 Abandonnée au IXe siècle puis totalement détruite par le violent séisme de 1957, Pinara fut pourtant l'une des plus importantes cités lyciennes. Le site reste encore assez méconnu et peu foui...
To know more about Pinara
Pinara the Lycian had a large port, over time, was silted up and is now in the ground. The town was conquered by Alexander the Great in 334 BC before passing under the control of Pergamon.
Les vestiges archéologiques sont dispersés sur trois collines. L'acropole s'élève sur une colline à plus de 700 mètres d'altitude uniquement accessible par le sud par un escalier existant dep...
To know more about Pinara
This city of Lycia was probably called « Pinata » during the Hittite Empire, towards the end of the second millennium BCE. This is the result of the analysis of two main writings :
The inclusion of Yalburt: Pinata appear along with many other towns of Lukka - including Wiyanawanda, Napir, Luwanda, Huwalatarna, Talawa, Patara - just before Awarna, which is now indisputably located toward the Xanthos;

The letter of Milawatta: Pina is mentioned together with Awarna. There are two towns that have been the subject of negotiations for hostages exchange with Utima and Atriya.
A posteriori, the translations of the Hittite tablets has show how the Greeks have reviewed the history of their cities, ignoring the ancient kingdoms of the Bronze Age to the interior of Anatolia and reworking constantly their founding myths. For example, in Sidyme, the Solyma of Strabo, was found a text of Hiero, known to be a mythologist, in the political line of his time on the mythical genealogy of the Lycian towns : while Patara, during the Hellenistic period, was the equal of Xanthos, Pinara and Tlos, as founded by three brothers, it was demoted under Rome claiming that Pataros was only the son of Apollo and Lykia, a daughter of Xanthos.


My notes of veracity :
The site of Pinara was called Pinata under the Hittites: 4/5