Patara is a city of ancient Lycia, which had a port, now in the ground, to the mouth of the Xanthos. It was the most important port of Lycia.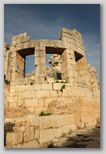 Patara était une antique cité, une des villes principales de Lycie en Turquie, et son port principal. De vastes dunes de sable recouvrent aujourd'hui le port antique, mais les vesiges de la ville...
Patara history
In this blog, which targets mainly urban geography from the Bronze Age to the beginning of our era, an inscription on a pillar of Patara is invaluable: it positions 50 cities of Lycia during the early years of the Roman period, about the year 50 AD. This document is called "inclusion of the stadiasme of Patara." The Lycia there is measured, starting from Patara to the three cities most distant borders that were Kaunos, westward, Kibyra, northward, and eastward Attaleia.
But Patara existed over three thousand years ago, according to the Hittite inscription found at Yalburt: "Having reached the mountain of Patara, the King dedicating offerings to the gods, erected stelae and builds the front speakers to declare that neither his father nor any of his predecessors had gone as far as him in this country of Lukka". This sentence ends the story of a series of military operations of the upstream cities of Xanthos, leaves no doubt about the location of the city of Patara, which will remain a maritime terminal until the Roman period.
In addition, with that text, we can concluded that this country of Lukka, had become, 1000 years later, Lycia, with, however, a varied perimeter over time. At its peak, around 1250 BC, it incorporated the cities of Caria, Phrygia and Pisidia.
For an explanation on the colors of text, click here.
For French language, click here.
My notes of veracity :
Patara in Lycia already had that name under the Hittites: 5/5