South of Anatolia, at 18 km at the east of Antalya, the ancient site of Perga is located 3 km west of the Aksu river, which was the Kestros at the time of ancient Greece.
During the first millennium BC, the city was Lydian then Persian before his submitting without a fight to Alexander the Great. Then, under Seleucid rule and the kingdom of Pergamum, it became Roman. It owned the largest stadium in Asia Minor:
Statue of Kestros the river god at the Perge Nymphaeum.
Travelsignposts Home Travel Photos Country Guides City Guides River Cruises Walking Holidays
http://www.travelsignposts.com/destination/Turkey/Perge/perge_AJP1155
Statue of the Kestros river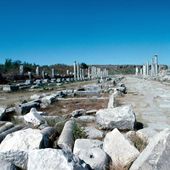 Les ruines de Perge, à 22 km d'Antalya. Perge est l'un des sites de plus intéressants de la côte sud de la Turquie. Perge aurait été fondée après la guerre de Troie par des colons grecs sur ...
Perga
According to ancient mythology, the city was founded after the Trojan War by legendary heroes Kalchas and Mopsos. The excavations of the courtyard behind the main gate of the city, reveal, on the base of statues, the names of these two heroes.
In Hattusa archives, the city of Parha and the Kastaraya River are both mentioned in the treaty of Kuranta that defined the borders of Tarhuntassa: "Towards the district of the city of Parha the Kastaraya river forms the border. If the Great King began a campaign beyond Kastaraya, and grabs Parha by force of arms, the conquered territories would be allocated to Kuranta."
Two versions of this treaty have been found, dating from the second half of the 2nd millennium. They clearly show that the Kingdom of Tarhuntassa was to the east of the border river. And the city of Parha then appears as belonging to the country of Lukka.
The phonetic proximity and the mention of the river Kastaraya leave little doubt about the connection between Parha and Perga. However, should we believe that the Trojan War was before the writing of these two treaties?
Egypte,Asie Mineure,Grèce,Perse,Mésopotamie
Antikforever.com c'est 4000 ans d'histoire : l'Egypte pharaonique, l'Asie Mineure, la Grèce, la Perse, la Mésopotamie, la Palestine et la Syrie et un dictionnaire sur l'antiquité de près de 400...
Perga on antikforever