Susa is famous for being the capital of Darius 1st in the early 5th century BC. But this site, the current town of Shush (which derives from the ancient name), located in Iran, at the western edge of the plain of Khuzestan, had a history of more than four millennia.
The location of the city is known since 1851. During a campaign of excavations from 1914 to 1922, Maurice Pillet found several tablets showing the importance of the city in the Bronze Age. Here is a significant content : "I Silhak In Susinak son of Choutrouk Nakhunte king of Anshan and Susa, my brother Kutir Nakhunte made a decorative earthen terracotta reliefs for the temple in Susinak, but had not completed; I've finished it, and I offered it to In Susinak my god. "
These texts, mostly in Akkadian language known on the sites of Elam, confirmed the ancient name of the place, unchanged for millennia. The city of Anshan was not localized, but was supposed to be close to Susa.
The old city, over 10 hectares, is still under excavation, it is one of the most important achievements of the French archaeologists, although the methods of the first excavations are now obsolete.
Egypte,Asie Mineure,Grèce,Perse,Mésopotamie
Antikforever.com c'est 4000 ans d'histoire : l'Egypte pharaonique, l'Asie Mineure, la Grèce, la Perse, la Mésopotamie, la Palestine et la Syrie et un dictionnaire sur l'antiquité de près de 400...
To know more about Susa
Susa, because of its geographical position, suffered of the Mesopotamian influence. The town is extensively mentioned in the tablets of the countries between the two rivers. However, during certain periods of its history, particularly during the reconciliations with Anzan (called proto-Elamite period 3100-2800 BC and during much of the second millennium), another language, today undeciphered called Anzani or Elamite, is transcribed on the tablets.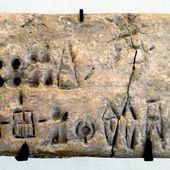 P1180316 Louvre Suse III tablette économique Sb15200 rwk.jpg
Description English: Economic tablet. From the Tell of the Acropolis in Susa. Français : Tablette économique avec empreinte de cylindre portant des ibex, au revers écriture et signes numéraux ...
https://commons.wikimedia.org/wiki/File:P1180316_Louvre_Suse_III_tablette_%C3%A9conomique_Sb15200_rwk.jpg
Tablets of Susa
The extensive documentation, from the Mesopotamia sites but also from those of Elam, allows to have a good appreciation of the history of the western Iran during the Bronze Age.
For an explanation on the colors of text, click here.
For French language, click here.
My notes of veracity :
During the Bronze Age, Susa had this same name: 5/5