Half-Tepe is located in the province of Khuzestan, in southwest of Iran, 15 km south of Susa. The site was discovered in 1908 by the French archaeologist Jacques Jean Marie de Morgan. From 1965 to 1978, it was excavated successively by the archaeological services of Iran under the leadership of Dr. Ezzatollah Negahban and since 2003 by a German-Iranian team led by Behzad Mofidi. Archaeologists have found a palace and a large temple founded by Tepti-Ahar with important Mesopotamian and Hurrian influences.
Thousands of clay tablets were unearthed, mostly written in Akkadian. The administrative texts are from the reign of Tepti-Ahar and Inshushinak-Zunkir Nappipir, around 1445 BCE. The identification of the site to the ancient city of Tikni, described as being between Susa and Chogha Zanbil in the documents was proposed without being restraint.
But, in one hand, a seal of Athibu, governor of the ancient city of Kabnak under the reign of Tapati Ahar, and in another hand, two tombs found north of the site with an inscription in the name of Tapati Ahar which allowed to identified Half-Tepe as the ancient city of Kabnak.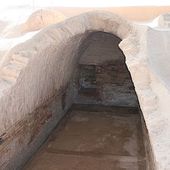 Haft Tappeh: the Elamite city of Kabnak
Haft Tappeh ('Seven Mounds'), located 15 kilometers to the south of the ancient city of Susa, is one of Iran's most significant archaeological sites. Composed of seven ancient mounds as its name ...
https://archaeologynewsnetwork.blogspot.fr/2011/10/haft-tappeh-elamite-city-of-kabnak.html
To know more about Haft Tappeh
Tepti-Ahar, the so-called dynasty of "Kidinuids" bore the title of King of "Susa and Anshan". He is known to have moved his capital to Kabnak. Translations of found writings are still ongoing. In 2008, it was noted that the name of Tepti-Ahar appeared 55 times on the tablets of Haft-Tepe.
For an explanation on the colors of text, click here.
For French language, click here.
My notes of veracity :
Kanak was the site of Tepe-Half: 4/5