In the western Nile Delta is the modern town of Damanhour. Formerly, it was located on the banks of a canal connecting the Lake Maréotis to Canopus. That name comes directly from the Coptic designation "Timinhor" according to documents from the 4th century J.C. which mention it being the seat of a bishopric. The hieroglyphic designation of that city is very close : "Demit-en-Hor". This name means "City of Horus." A temple of Horus would have been built during the Old Kingdom. Some think that Imarut would be the oldest name. There is no archaeological confirmation because no search is performed.
In most of the historical references, including those of Champollion, this city is considered being « Hermopolis Parva » or « Hermopolis Mikra ». Objects were found there during the expedition of Napoleon: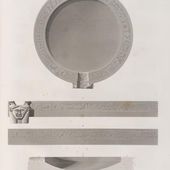 Collection d'antiques. Vase en granit noir, trouvé près de Damanhour, Hermopolis Parva.
One of hundreds of thousands of free digital items from The New York Public Library.
http://digitalcollections.nypl.org/items/510d47e0-2121-a3d9-e040-e00a18064a99
Object of Hermopolis Parva
In Lower Egypt, another Hermopolis, near Mendes, is now confirmed by many other papyri. This is probably for differentiate this namesake in many Greek writings that, during the 3rd and 4th century AD, it is mentioned a "small Hermopolis", "Hermopolis Mikra" or "Low Hermopolis."
As for the term "Hermopolis Parva", here is its origin : « Dracontius » is attested as bishop of Timinhor in a Coptic document ; and during a council in Alexandria in 362 AD, there is also a Bishop with the name « Dracontius », but from Hermopolis Parva. This explains the rapprochement that has been done. However, some researchers consider that Timinhor and Hermopolis Parva (or Mikra) were two distinct cities, which were very close.
For an explanation on the colors of text, click here.
For French language, click here.
My notes of veracity :
Damanhur was designated "Demit-en-Hor" in hieroglyphics: 4/5
Damanhur was designated "Hermopolis Mikra" by the Greeks: 2.5 / 5
Damanhur was designated "Hermopolis Parva" by the Greeks: 2.5 / 5