Esna or Esneh, in Egypt, lies along the Nile, 55 km south of the ancient Thebes. The scientists of the expedition Napoleon have seen different constructions, they have qualified them as Egyptian, Greek, Roman and Arabic. They placed there Latopolis, referring to Strabo who located this city south of Thebes, a place where Pallas and the fish Latus were worshiped. The Greek name of the city would come directly from the caught fish of this place of the Nile.
With the excavation of Auguste Mariette, we know that the main monument is a temple for the worship of Khnum, Heqat and Neith. This temple started to be built during the reign of Ptolemy VIII and ended during the Roman rule, under Marcus Aurelius. But some Thutmose II building traces were also found there.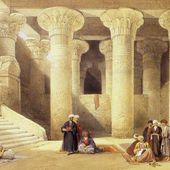 ESNA LE TEMPLE DE KHNOUM La cité égyptienne d'Esna, connue durant l'Antiquité sous les noms de Lunyt, Ta-senet puis Latopolis, est située sur la rive ouest du Nil, à environ 55 km au sud de la...
http://egypte-eternelle.org/index.php?option=com_content&view=article&id=74&Itemid=515
Esna: The temple of Khnum
The current name derives from the Copt "Sne" and the hieroglyphic designation of "Senet", "Ta-Sny" or "Ta-Senet".
On one wall of the temple is writing "Temple of Neith and Khnum in Iunyt". There are other texts of Neith in Iunyt.
Also both hieroglyphic names are admitted to this ancient city. If the first actually appear the origin of the name, the second seems to be a broader designation. Iunyt or Iuny is also assigned to Hermonthis, the present city of Armant. I think that name refers more generally to the country of Heliopolis, probably the whole of Egypt. This is also the meaning to be given to an inscription of Sheshonq IV, which calls itself "Master of Heliopolis", recently found at Tell el-Balamon.
For an explanation on the colors of text, click here.
For French language, click here.
My notes of veracity :
Esna had the greek name of Latopolis: 3/5
Esna had the hieroglyphic name of Senet or Ta-Senet: 3/5
Esna had the hieroglyphic name Iunyt: 2/5