Today, Sharuhen - mentioned by biographies of soldiers during the expulsion of the Hyksos from Egypt as having been besieged for three years - was positioned at Tell el-Farah, in present Israel or Tall al -Ajjul in the Gaza strip, south of Gaza city. But the result of excavations is unconvincing.
On Internet, for Dour-Sharrouken, located in Assyria, is the following explanation on "Sharrouken": this name comes from the name of Sargon II King of Assyria in the 8th century BCE.
It is possible to advance the same explanation for the name "Sharuhen" : It would be the ancient capital of Sargon 1 (Sarru-Kin): Akkad or Agade.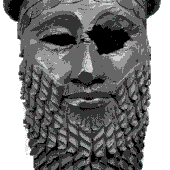 Le masque de Sargon d'Akkad (roi akkadien qui vécut au IIIe millénaire)
Ezida, le site dédié à la Mésopotamie. Tête présumé de Sargon d'Akkad.
Mask of Sargon ?
This gives another indication of the ancient capital of Sargon, not positioned today:
Article in French on the capital lost
A tablet indicating a property of an individual from Akkad is a very thin item to geographically locate a city.
The former capital of Akkad, we are sure that it was a port, it really situated towards the Tigris and Euphrates? And if it was, in fact, more to the west, not far from Egypt?
This hypothesis is strengthened by the fact that Akshak is probably the Tell Es-Sakan. But it can not be Akkad because it was abandoned around 2300 BC.
A city was called Akka in the Amarna tablets, around 1350 BCE. That name appears in the texts of Tell Bi'a, and also in those of Emar, etched into the first part of the 2nd millennium BC. This name is considered to be the current city of Akko, Acre or Saint John of Acre during the Crusades. But this hypothesis is not consistent with "the ships coming to dock to bring the treasures of Sumer going up a river."
But what was this river? The Tigris, the Euphrates? The Orontes?
Finally, it appears from biography to Uni, only under Pepi and Merenre 1st that other expeditions over long distances were conducted by the Egyptians, five times. Uni said to have led an army through the lands of the inhabitants of the sands.
For an explanation on the colors of text, click here.
For French language, click here.
My notes of veracity :
Sharuhen was Tell el-Farah: 1/5
Sharuhen was Tala al-Ajjul: 1/5
Sharuhen was the Egyptian name of the city of Akkad or Agade: 2.5 / 5