When introducing his description of the Egyptian labyrinth, seen with his eyes, Herodotus positions it at the above of Lake Moeris and near the city called "Crocodilopolis".
Here is the site of Louis De Cordier, who says that, following an expedition (name Mataha) in 2008, the described labyrinth by Herodotus is located near the Hawara pyramid of Amenenhat III. He positions this complex south of the pyramid and evaluates its surface several hectares. This is the result of a survey carried out by the NRIAG (National Research Institute of Astronomy and Geophysics, Helwan, Egypt) by a non-intrusive way:
Labyrinth of Egypt - Mataha Expedition - RESULT - The conclusion of the Hawara geophysic-survey is waiting since August 2008 (workshop NRIAG), to be officially released by the Supreme Council of ...
Mataha expedition
Here's another site, which, based on the work of Petrie in the late 19th century BC, led to the same conclusion: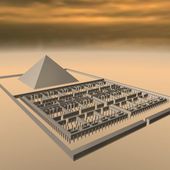 A Virtual Exploration of the Lost Labyrinth
Narushige Shiode , Wolfram Grajetzki Centre for Advanced Spatial Analysis University College London Abstract This paper reports on a case study* that explores the possibility of reproducing a ...
http://www.casa.ucl.ac.uk/digital_egypt/hawara/enco2000/enco2000_web.html
Virtual exploration of the labyrinth
The Petrie reports are available on the Internet:
Kahun, Gurob and Hawara: introduction 1
1. The past season's work has lain in several sites, and covered every epoch from the XIIth dynasty down to the Arab conquest. On first going out I at once resumed the attack on the pyramid of ...
Petrie : "Kahun, Gurob and Hawara"
While most scientists admit that the famous labyrinth was there at Hawara, just a few ask the question of its use. A part seems to have been built underground, and was probably with funerary purposes, while another was on the surface. There was probably a great inhabited city in the late Middle Kingdom.
Some claim that the former name of Hawara was "Het-waret", the Egyptian name of Avaris:
For French language, click here.
My notes of veracity :
The Egyptian labyrinth mentioned by Greeks was at Hawara: 3/5