At Medinet Madi, Fayum, a team of Egyptian archaeologists, led by Abdel-Rahman Al-Ayedi, at the head of archaeological excavations of the Supreme Council of Antiquities (SCA), has identified a range of buildings including:
a first temple of Sobek, built under Amenemhat III ;

a second temple dedicated to the worship of the goddess Renenutet, was completed during the reign of Pharaoh Amenemhat IV ;

residential houses ;

a wall that encircled the temples, about of 400 meters long. It separated the religious complex and the houses of the city.
Initially, the oldest writings show that this site was called Dja. With the arrival of the Greeks, they called this city Narmouthis by contraction of "Renenutet-Hermouthis".
The first site excavations were carried out by an Italian team led by Achilles Vogliano, who found the temple of Amenemhat III and the Greco-Roman extension.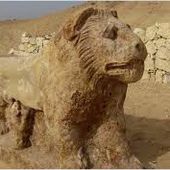 fayoum oasis- الفيوم مدينه الجمال الفيوم مدينه التاريخ
Medinet Madi is a site with a very rich history dating back to 4000 years ago, at the end of Middle Kingdom (first half of the second millennium B.C.), when a village called Dja was founded in the ...
http://fayoum-orlando.blogspot.fr/2015/03/medinet-madi-luxor-el-fayoum.html
Medinet Madi, reports
For French language, click here.
My notes of veracity :
At the beginning of our era, the ruins of Medinet Madi were called Narmonthis by the Greeks: 5/5
In the 2nd millennium BC, the ruins of Medinet Madi were called Dja: 3/5