During the 18th century BC, Kurda is the city of Numha the most mentioned in the archives of Mari. However, that name appears earlier in the name of "Kar-Daki-ka" in Sumerian texts of Ur III, and in the late 3rd millennium in those of Girsu. It has been linked with Gutis and positioned in the mountains of Zagros. The name "Kar-da" means "Land of the brave"
Researchers believe that it was the Kordestan region, part of Kermanshah, near Sanandaj to in the present country of Iran.
And why the city of "Kurda" of the Mari texts would be elsewhere? In the tablet II15 is a description of the palace and its surroundings: "You know the palace of Kurda: its thresholds are immense. On the other hand you know the area, in a distance of a double milles and a half there is no tree. "
According to the archives of Mari, the kings of Kurda are : Simma'ila-hanem, Bunu-Estar, Hammurabi of Kurda. Tell Leilan archives allow us to know an additional king : Ashtamar-Adad.
The site of Tepe Giyan is the best candidate to Kurda, because during the bronze age in the region, it is the tell the most important.
G. Contenau and Ghirshman have excavate this site between 1931 and 1932. They published their findings in 1935. Recently, in 2012, Ali Khaksar has carried out work to estimate the dimensions of the ancient city. This allowed a re-evaluation of the results of the French.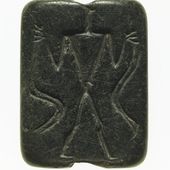 Stamp Seal 4000-3000 BC Found at Tepe Gi...
Stamp Seal 4000-3000 BC Found at Tepe Giyan, Iran (Source: The British Museum)
http://ancientpeoples.tumblr.com/post/74527297784/stamp-seal-4000-3000-bc-found-at-tepe-giyan
Stamp seal found at Tepe Giyan
The site occupation begins during the Chalcolithic period and ends around 1400 BC. This corresponds entirely to the texts : Kurda is not mentioned on the Neo-Assyrian tablets.
For an explanation on the colors of text, click here.
For French language, click here.
My notes of veracity :
Kurda was the site of Tepe Giyan, Iran: 3/5