In the archives of Mari, Kasapa is an important city of the country of Numhâ. According A.3757, it was in this city that Hammurabi of Kurda gathered "the people" of Numha around 1800 BCE. The tablet relates a dialogue between Hammurabi of Kurda and his "people." According to the translators of the texts, we must understand that "the people" was a meeting of « Older ». This was undoubtedly a local tradition.
The name of this city is perhaps in «Kasavand» in the Kangavar Valley. This is the Godin Tepe site in Iran. It was excavated between 1965 and 1973 by a Canadian team led by T. Cuyler Young and sponsored by the Royal Ontario Museum.
This site was involved in the trade of lapis lazuli on the axis of Khorasan. The tell, with an area of 15 hectares, was occupied from the 6th millennium until about 1400 BC, the same period that the neighboring site of Tepe Giyan. This corresponds entirely to the texts: perhaps Kasapa is mentioned in the Neo-Assyrian tablets under the Bit-Kapsi form in a text of Tiglath-Pileser III. A reoccupation of the site has actually been observed by the archeologis at 750 BCE.
GODIN (GOWDIN) TEPE, an archeological site in the central Zagros, which was occupied from ca. 5,000 to 500 B.C.E. It is located at 48° 4′ E and 34° 31′ N in the Kangāvar valley, approximatel...
Result of the excavation of Godin Tepe
One room contains beading and a jar in which specialists have found traces of beer. Other ceramics show wine residues.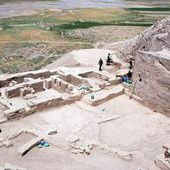 Godin Tepe : un fast-food vieux de 5 200 ans ?
Il y a 5 200 ans, dans les montagnes de Zagros, près de l'actuelle ville de Kangavar à l'ouest de l'Iran, les gens pouvaient commander de la nourriture à emporter, comme dans les établissements...
http://historizo.cafeduweb.com/lire/13086-godin-tepe-fast-food-vieux-5-200-ans.html
The first fast-food of the history?
Researchers have made the connection of Kasapa with Kastappum or Kashtappum of the archives, of the tell Shemsharah: this would be the site Kashaf / Keshaf / Kushaf located on a meander of the great Zab.
I do not believe in, because in Tell Leilan archives Kasapa and Kaspatum are both distinctly mentioned. The latter city is located in the Idamaras near Zurra.
TAANE Project | Welcome to the Project Website of The Toronto Atlas of Ancient Mesopotamia
Homepage & News Project Director Project Associates Feedback & Email
Assumption of positioning of several cities near Kirkuk